Thank you BJ's Wholesale Club for sponsoring this post.
When I made the decision to work from home full-time and start my own business I thought it would be great to have flexibility over what I ate at home. Imagine having avocado toast whenever you wanted or a healthy hummus and chicken wrap at lunch time! I quickly realized that making every meal was a huge time-suck and I needed to learn how to set up a weekly meal plan. So after purchasing a membership to BJ's Wholesale Club, I immediately started planning my menu.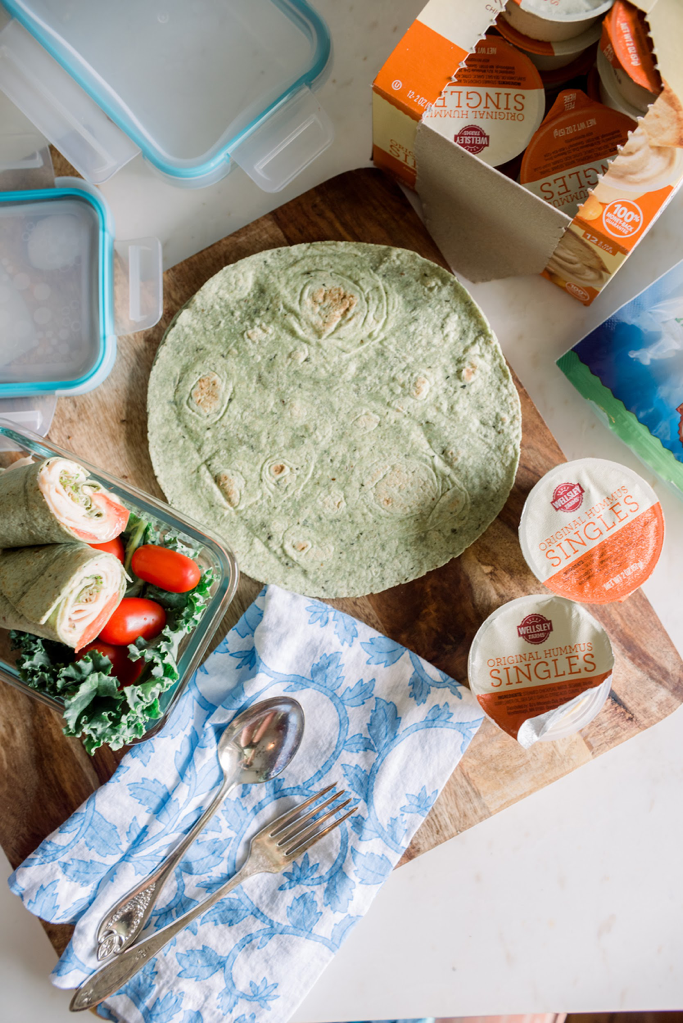 I remember when I was younger we used to make an evening of going to BJ's for our grocery runs. As a young kid, it was a culinary adventure getting to sneak by all the free samples and I loved all the oversized packages of candy.
Now that I'm setting up a weekly meal plan, I understand the importance of going to BJ's to buy a variety of menu planning items at a low-cost, but you don't have to sacrifice flavor or quality when you shop at BJ's.
One of BJ's exclusive brands, Wellsley Farms, has a variety of quality products sourced from the best growers, bakers, ranchers, and fisherman locally and globally. They have a variety of natural and organic products at a pretty great value. I picked up 40 ounces of their Greek Yogurt at half the cost it would have set me back at a typical grocery store for the name brand.
Wellsley Farms also has perfectly portioned containers of hummus, perfect for meal-planning, plus I was able to get some granola bars to mix in with my yogurt and some mixed nuts for mid-day snacking.
Now that I had all my necessary ingredients for meal-planning at a better price than what I'd spend at a typical grocery store, I set off to creating a robust and perfectly portioned meal-plan for the week.
Meal Ideas for a Weekly Meal Plan
Breakfast: Greek yogurt, maple almond butter, ½ of a crushed up granola bar, and fresh blackberries or a variety of breakfast crispbreads or overnight oats.
Lunch: A chicken, hummus, cucumber and kale wrap with a side of tomatoes.
Afternoon Snack: ½ of the granola bar leftover from breakfast and an orange
Dinner: (our week typically looks like the following for dinner)
Monday:

Dill Roasted Salmon with Country Mustard Green Beans (recipe coming soon)

Tuesday:

Grilled Chicken Breast with Kale Salad

Wednesday:

Leftover Grilled Chicken Breast with Farro, Tomato, Basil Salad

Thursday:

Pork Chops with Lemon Herb Broccoli

Friday:

a Creative recipe or going out for dinner.
The thing you need to remember most about a meal plan is that you're simplifying your menu so that you don't end up overspending on the "extras" in certain recipes. Shopping in bulk at BJ's Wholesale Club also allows me to spend less time picking up groceries, and more time with friends and family. Since my boyfriend and I enjoy cooking together after work, we make a habit of it to make each dinner together Monday through Thursday and will typically incorporate some sort of leftover meat on another day (like leftover meat from Tuesday used in Wednesday's dinner listed above).
And since we're both eating the same things day in and day out, we can predict what we need to buy in bulk from BJ's Wholesale and anticipate our savings (roughly up to $500 a year, or 25% off of other grocery store prices.)
BJ's wants to share the love with you by offering you a $25 gift card when you sign up for a membership through my refer-a-friend
link
!
If you're a meal planner I'd love to hear some of your weekly rotations in the comments below, we're always looking to expand our recipe base!
I was selected for this opportunity as a member of CLEVER and the content and opinions expressed here are all my own.